Organically certified restaurant Rappenhof: country style restaurant with a kick
Enthuse about the excellent Swabian cuisine in Weinsberg
Experience our restaurant Rappenhof high above the valley of Weinsberg with panorama winter garden and delightful sun terrace. Go on an expedition with our head chef Robert Marzahn to discover the world of Swabian cuisine.
Our benefits:
Excellent country style cuisine
estaurant with winter garden, sun terrace and garden
Organically certified
Certified with "Schmeck den Süden" ("taste the south")
Certified "Haus der Baden-Württemberger Weine" ("house of baden-württemberg wines)
Playground for children
Diversity of swabian cuisine
Try regional and delicious food in the restaurant Rappenhof
Enjoy culinary delights like filet of speckled trout fried with lemon thyme. Look forward to try delicious classics of our country style cuisine like "Swabian Zwiebelrostbraten", "Sauerbraten", "Maultäschle" and "Spätzle".
Furthermore, we offer seasonal delicacies like dishes of local game, asparagus or pumpkin. The Rappenhof is member of "Schmeck den Süden Gastronomen Baden-Württemberg" (Taste the south) and therewith focuses on the diversity of regional cuisine.
Enjoyment with high quality
Selected wines and products
All our meals represent our region and high quality products, such as organic angus beef from free-range husbandry of the Michaelsberg in Gundelsheim, potatoes from Biolandhof Schmelcher, organic milk products, organic eggs from Biohof Weitblick, fairtrade and organic coffee from Kaffeehaus Hagen and tea from GEPA, lentils from Alb-Feld-Früchte Lauteracher, lamb from shepherd Erwin Württemberger from Ellhofen, ice cream made of own milk, cream and fruits by Bauernhof Schmidt from Bad Friedsrichshall.
We are a certified "Haus der Baden-Württemberger Weine" (house of Baden-Württemberg wines) and offer you the best finest wines of the cultivation areas Baden and Württemberg. Treat yourself with a glass of trollinger or riesling, or order an elegant lemberger or pinot noir to your meal.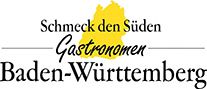 DE-ÖKO-006
Country style cuisine with great view
Restaurant with magnificent view
Your visit in our restaurant goes along withwith a beautiful view over vineyards,,meadows and fields, , as well as the castle Weibertreu and the city of Weinsberg. Meanwhile your children can romp around our garden and playground.
Feiern Sie Geburtstag, Hochzeit oder ein sonstiges Festle? – Gerne kümmern wir uns um Sie und Ihre Gäste.
Auch in der Tagungspause sind wir gerne für Sie da und versorgen Sie mit Speis und Trank.